A 22 yr old girl with right side hypoplasia (small breast right side) with normal left breast had approached to our centre for correction of deformity. Our doctor's team led by Dr. Navdeep chavan had examined her, and utilized new technique of fat free grafting for correction of deformity for the first time in goa, at our R.G. Hospital, porvorim. In this procedure fat cells are harvested from abdomen, thigh and buttocks and injected into right breast. Surgeons have injected approx 250 cc of fat into breast to overcorrect deformity, so with due course of time its size comes down to opposite breast size because of fat absorption. Time duration of procedure was around 3hrs and patient was discharged on next day. Patient can start her daily normal activities next day.
Fat grafting is also called free fat transfer, liposculpture, lipostructure, structural fat grafting and fat injections.
This is a procedure which removes excess fat cells (known as harvesting) from one area of the body i.e. abdomen, thigh, buttocks etc. then fat was purified either with hand or mechanically, now fat cells are ready for transfer into donor area with small syringes.
The advantage of fat grafting is that the fats comes from your own body, and at same patient get rid of excessive fat from abdomen, thigh and buttock, with minimal hospital stay. Benefits of this procedure are-
No chance of fat rejection.
Body contouring because of fat removal from abdomen and thigh.
Cost effective. (No implant required).
Fat grafting can been used for correcting or improving:
Facial scarring, e.g., acne scars.
Buttock hypoplasia with the Brazilian buttock lifts procedure.
Facial aging such as sunken cheeks and facial lines, either by itself or as an adjunct to cosmetic facial surgery.
Aging of the hands.
Thin lips with lip enhancement.
Other areas of the body where there is a soft-tissue defect, e.g., fat atrophy after steroid injections.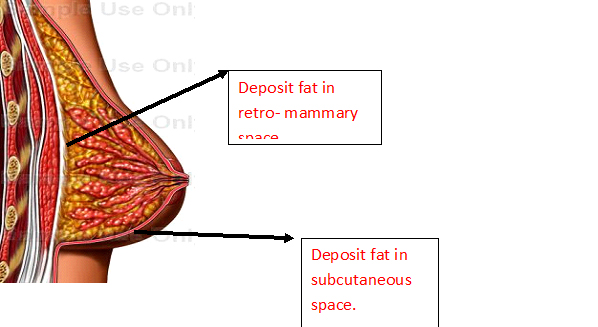 As told by our cosmetic surgeon Dr Navdeep, this new technique of fat grafting was started by famous plastic surgeon Dr. Sydney Coleman from New York. He had utilized this technique for facelift, breast augmentation, buttock lift and lip augmentation, so we have utilized same principle of fat grafting for correction of breast asymmetry with good result.